The Hall offers modern, purpose-built facilities with free parking. The Hall is available for hire for a wide range of community events, private functions and training seminars. We offer a large sports hall, a smaller hall and a committee room, a large kitchen and ample parking. In addition there are 4 sports changing rooms. We have free WiFi: access details on the noticeboard. If you live in or near Sturminster Marshall, visit the Regular Activities page to find contact details for all regular bookings. The Hall is the venue for Parish Council meetings and is grateful for their financial support - usually meetings are on the 1st Thursday of each month except August. Click to vist http://www.sturminstermarshall-pc.gov.uk/
Hall News and What's On - Public Events:
Notice to Hirers - you must now go to our Policies page before using the Online Booking page as we want every hirer to be aware of these policies
For regular updates, Visit us and Like us on FaceBook :Our FaceBook page
Artsreach:Saturday 16 March Alec Dankworth's World Spirit - world class jazz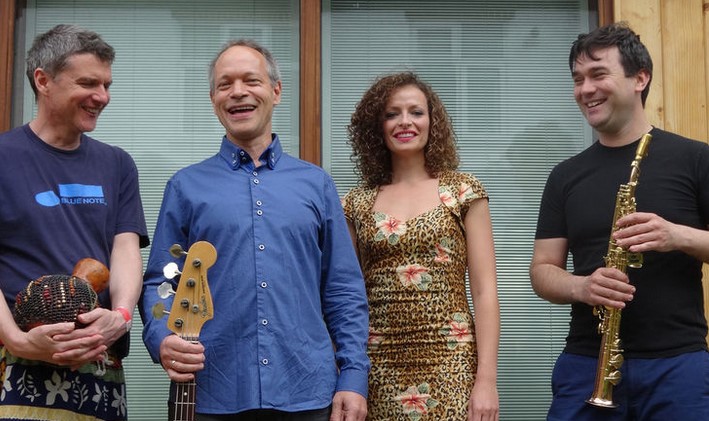 Another great Artsreach event, thanks to all of the Artsreach team, and obver £200 profit for the hall.
Village Litter Pick and Tidying 2019: Saturday 6 April at 2pm, meeting at the Village Hall, all equipment provided + refreshments. Supported by Sturminster Marshall Parish Council – for further details please phone the Parish Clerk on 07469780548, click here for poster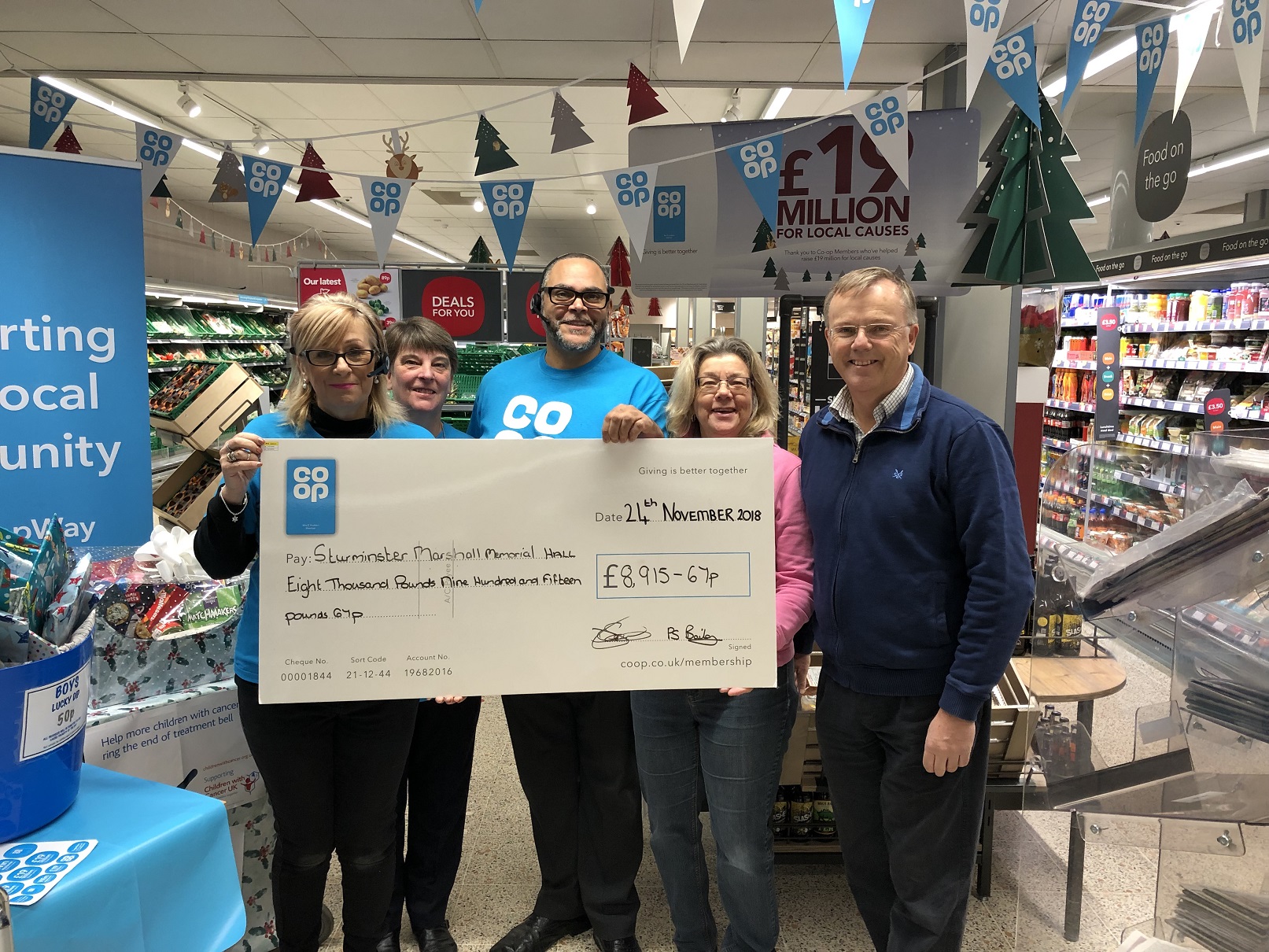 Replacing the Partition: We have now received the cheque for the replacement removable partition between large and smaller halls at the Co op celebration day. The new partition will have better sound-proofing and will be easier to open and close for event organisers. Thanks to the CoOp and to everyone that has shopped at the CoOp and nominated the Memorial Hall as their charity. Here is a picture of the giant cheque - £8915.67:
Neighbourhood Plan Meeting: Following the meeting on 28th November, the Parish Council will be holding a meeting later to begin the process of producing a Plan. Watch this space for further details or conntact the Parish Clerk at sturminstermarshall@dorset-aptc.gov.uk
Yoga - - classes are on Tuesdays at 10:00 am, contact details - Suzanne Bright , 01202 603555, 07788437471 or suzanne.bright@icloud.com
Slimming World: Mondays 7:30pm - contact Carla Rham on 07971038951 or carla.rham@yahoo.co.uk
Play & Learn for 0-5 year olds and parents/carers – every Wednesday 9.45-11.15, run by East Dorset Children's Centre, contact 01202 840790 , EastDorset.CC@actionforchildren.org.uk or just turn up. Click for more details
Pilates Classes: Wednesday evenings 7:30 pm - 8:30pm in the Second Hall. Contact Diana McGrail on 07940 821351 or email diana.mcgrail@yahoo.co.uk, www.pilatesphysique.co.uk.